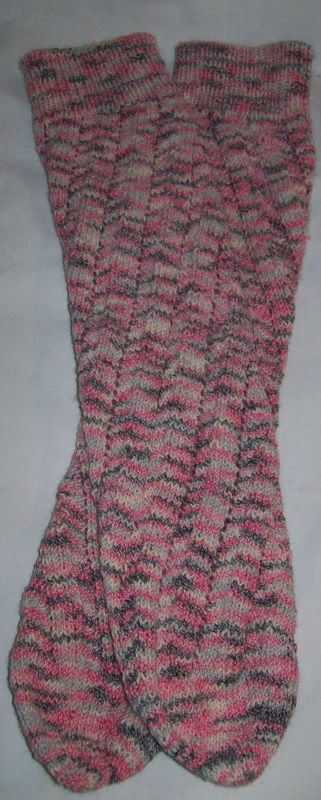 Yesterday on the subway, I finished up the toe of the Patons Stretch socks…All but the drawstring bind off and finishing--and I finished that once I was home.
Then, as a reward to myself for good work, I finished off the toe of the Snow Drop socks—and finished that pair of socks too!
I had been holding off, waiting till I finished the tube socks to finish these socks.. I love them--simple, pretty and fun to knit.
The skein where a bit small, --I finished with only a few yarns left over--enough, but just!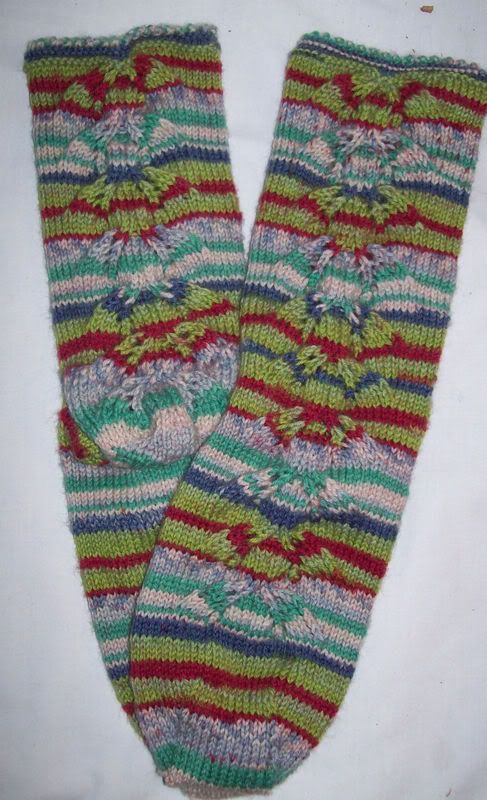 So this morning I grabbed 5 balls of yarn, (white, taupe, cocoa brown, aqua and teal) and a pattern (as a guide for cast on) and will start the first of two grand children sweaters.
The yarn is Moda Dea's Washable Wool—nice cabled worsted weight 100% wool.
Miss B's will be white, and taupe, aqua, teal, with just a bit of brown.
Master C's will be taupe and brown teal, aqua, with just a bit of white.
Not quite matching, but coordinated, and gender neutral—But-- what does that mean?
My grandchildren are growing up in the Castro district of SF—and are as likely to thing that pink and lace and ruffles are part of the normal range of attire for guys!
---When I was in 3
rd
grade –same age as my granddaughter, my teacher was Miss Mahon-(flattened to a single syllable, "Mann")—who was, as we kids knew, mannish.
She wore skirts, (but then in 1950's parochial school, skirts were, if not required, the generally accepted garment --once in a while, say on a snow day, she's wear pants.. but..) but we kids all knew, Miss Mahon wanted to be a man. We didn't know the name for such behavior, be we recognized it.
It wasn't spoken about—but it wasn't mocked or ridiculed either. It was just part of the normal range of human experience.
I am sure our parents and our teachers had their opinion about Miss Mahon, but presumed we kids were oblivious.
We weren't –but we accepted Miss Mahon as she was.
It was a good lesson in tolerance and acceptance.
But back to the sweaters, or I should say, cardigans—both will be top down, raglan sleeve—with buttoned closures.
Striped, with some sort of Fair Isle element--because I get bored easily and want something to make the sweaters more interesting!
Ideally, both sweaters will be finished before Christmas—and will be tucked into the Christmas box of goodies—my son & dil and family enjoy winter camping—and extra sweaters are always put to good use.