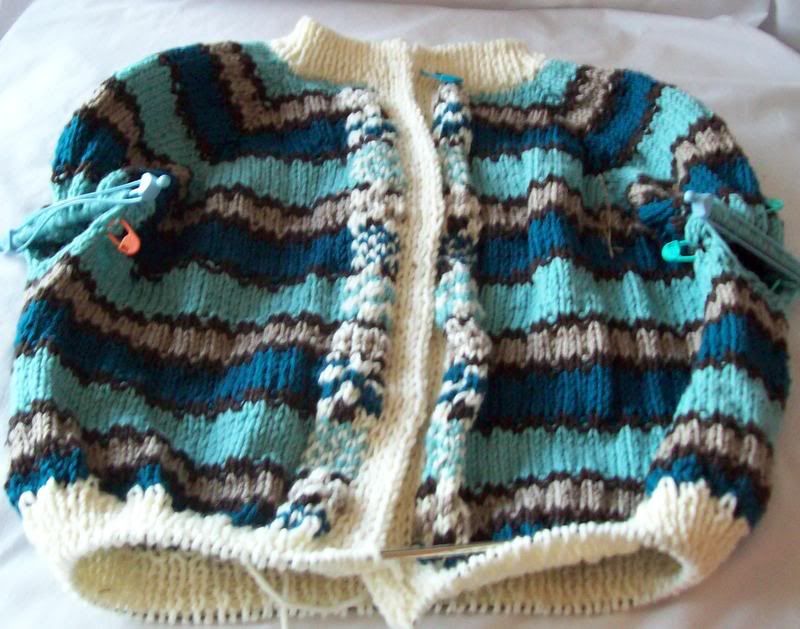 On to the sleeves.
Yesterday morning I took a photo.. I still had an inch ribbing to work.
That got done last night at my Tuesday knitting at LICKnits..
The stitches for the sleeve are on the needle—but I haven't knit a stitch yet.

This past weekend, when I should have been knitting, I spend some time making skeins of wool.
1 cone of lace weight wool (from scotland) got made into 5 skeins(this is brown is just on of the 5 skeins) (about 1000 yards in all) and washed –to remove the sizing added for machine knitting) This super fine yarn will be doubled for Miss B's fingerless gloves. (I doubt they will use more than 200 yards of the yarn)
Another 1000 yards or so of lace weight cashmere was skeined and dyed--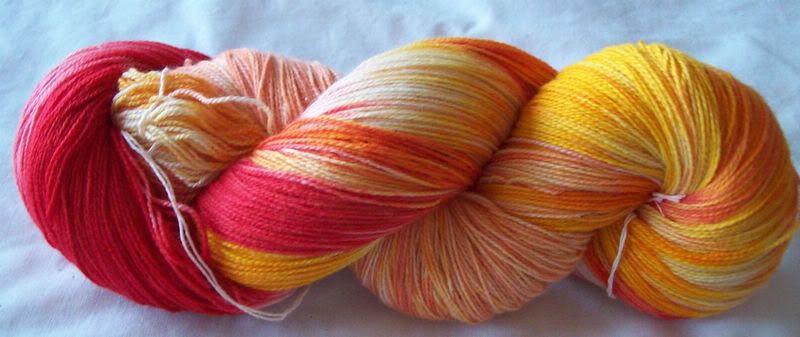 Rocket fire—Deep rich red, and flame yellow, with smoke and smoky reds, yellows and oranges. Other cashmere (cones) are patiently waiting their turn to be skeined (likely overdyed) and balled up.
At this point I have:
The Rocket fire cashmere, (circa 1000 yards)
The Big ball of Peachy merino/silk ( over 8 ounces—1500 yards?)
A big ball of Silvery pink (another 8 ounce ball)
Another ball (never photographed) of Red Cashmere (over 6 ounces of lace weight yarn)
and no current plans for a shawl!—of scarf)
I know eventually, I will knit these yarns up--but first:
Finish Miss B's sweater
Then make Master C's.
Then a set of finger less gloves for Miss C
(double knit with the brown wool above-- and lined with a wool/angora blend)
and a set of fingerless gloves (and matching hat—or will it be a scarf?) for me
Fermenting is an idea for a knit puppet.. (will it be a bat? with a flowery (echolocations) nose? or a fantasy creature?
And I am in total denial about the sock yarn… Really… (sock yarn doesn't count, right?)—and the socks I started last night? Let's pretend I didn't!