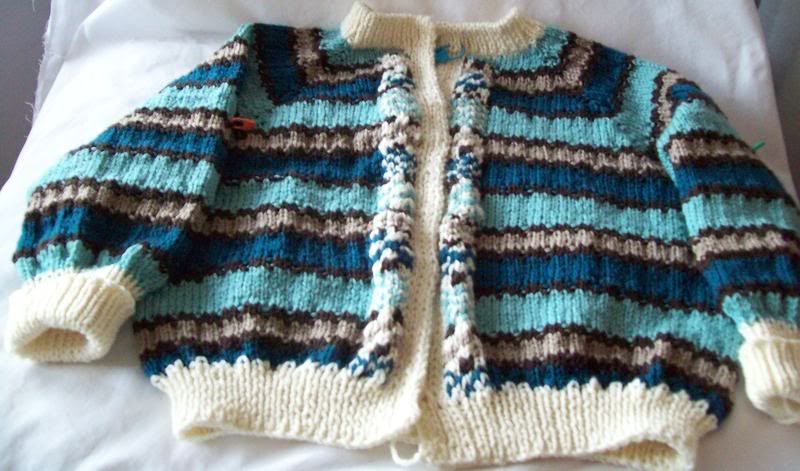 Knitting is done (on this sweater) but it's far from finished!
It needs to be blocked—the fair isle checkerboard patches in front are all out of shape,--but first, there are hundreds of ends to woven in.
That's a good project of Tuesday nights
SnB—the LICKnits group
that
I've been a member of going on 5 years now!
(How time flies when you are having fun!)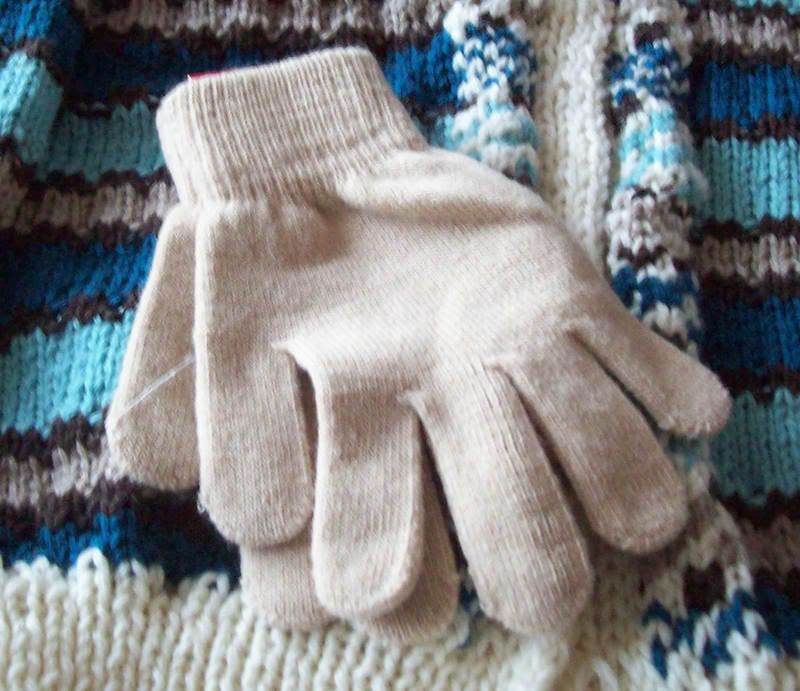 I found some taupe gloves (and a spare pair of white-- not the most practical color for kids) and will soon start on Miss B's fingerless gloves to match the sweater.. I am thinking about making her sweater into a sweaters set, with a small closely fitted vest to go along with the sweater.
The sweater is over sized and puffy. A fitted vest might be just the best thing to go with it.
I'll see where I am with the yarn after I have finished Master C's sweater… which will be striped too, but narrow stripes, with the yarns carried up the side! (I just don't want to face all those ends to weave in again, so soon!)--its likely to be a bottom up with a placket opening.. and a maybe even a pocket.
Boys always need pockets.
I should have finished this sweater weeks ago.. but I have been unfaithful.. and playing with a sock design.
They are tentatively called MAST—but they are not sea worthy.
On Sundays, (well most Sundays) I have the pleasure of knitting with the
Tsock Tsarina
. (going on 3 years now!)
I love her socks—as object de art!
But I rarely like anyone else's designs (Ms Grossman's included!) to knit.
Vintage
was wonderful… All those little leaves..Just wonderful! but there is No F'in way I will ever knit a sock like that! I just won't put that much effort into a sock!
Still the idea resonated and fermented, and now I am working on a sock with a leaf design of my own.
Each sock has 1 leaf. (or rather will have one leaf, since I haven't knit the leaves yet!--and the leaf is a tree leaf-- not a vine. It's nothing at all like Vintage.. Oh wait it is--it has a leaf!--

The design is still being worked out.. Some elements are locked in—but —I am only showing you the edge.. (Since the photo was taken, (7AM this morning)
I have frogged back to this point!)
If (when!)I get stuck, again, on how to make things work—(and I am likely too!)or when I frog again,I'll start up with the fingerless gloves (and maybe even the next sweater!)