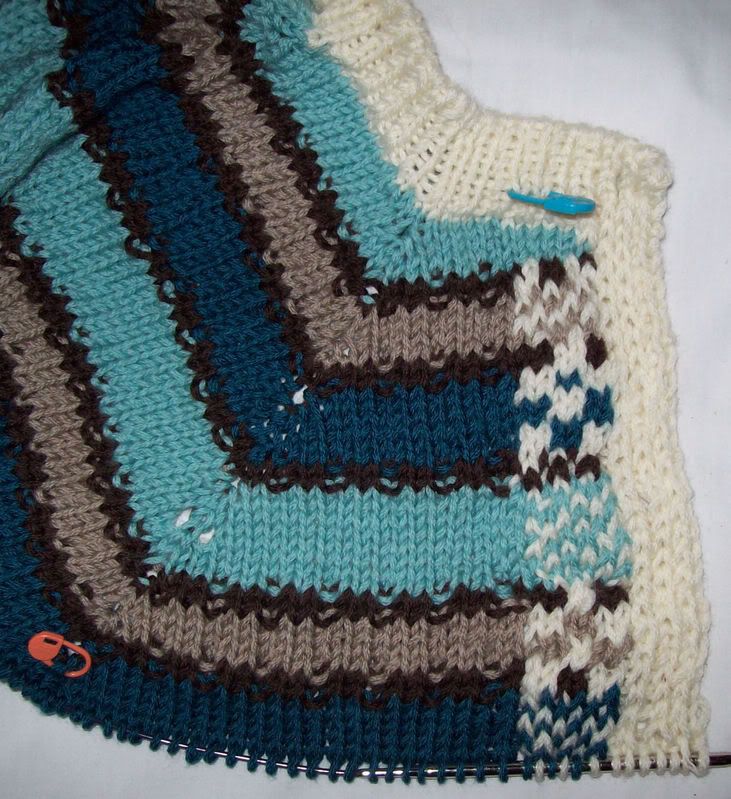 Then one for her brother—it will be the same colors--but arranged differently (I am not going to put white cuffs on sweater sleeve for a little boy who love playing in the dirt.. He has dinosaurs attacking his Tonka trucks—and other adventures that involve playing in the dirt.
He needs something that won't be be obviously filthy in 5 seconds!
Likely stripes-- but other ideas are still floating round in my head!
Miss B's is a basic top down seamless raglan.
You can duplicate with any basic sweater pattern generator.
The Details...
1—
A tubular cast on—my favorite for a top down sweater!






2—
A knit in place button band
Intarsia style, with half ribbing.
3—
Stripes-- in this case:
2 rows of A,
4 rows of B,
2 rows of A,
6 Rows of C,
2 rows of A,
8 rows of D. (repeat)—I am about half way through the second repeat)
4—
The stripe detail
On the first row of the color change, K2, P1
(on subsequent changes, keep the pattern in line--all the P1 are in single column)
5—
the Increase—a center stitch was selected for increase:
R1: K, YO, K into center stitch
R2: P
R3: Lifted increase, K1, Lifted increase
R4: P
6—
Some color work in the front.
A broken pattern of birds eye check and a small checkerboard
There are only a few more rows till its time to separate the sleeves.
The bottom ribbing, like the top and button band will be white.I am looking for buttons. So far nothing has been quite right--but eventually something will be!