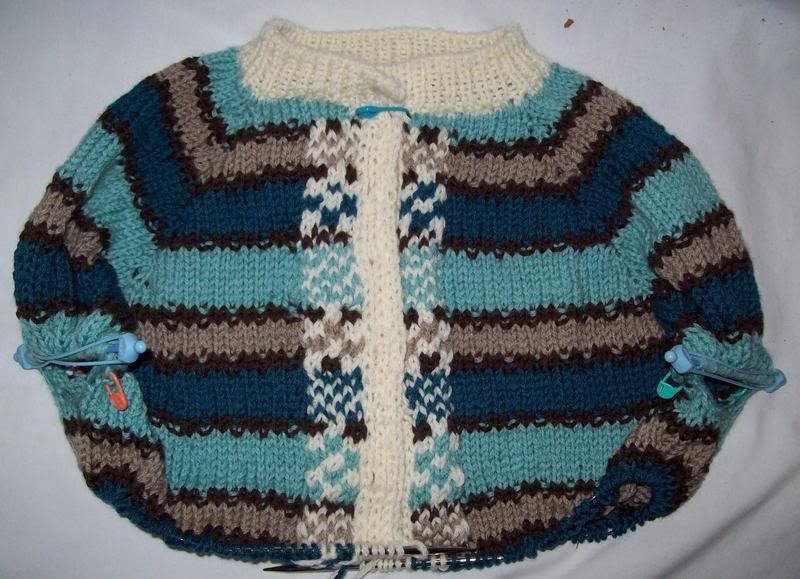 I haven't been working hard at this sweater--but its moving along nicely.
Yesterday I reached the first big landmark—and the stitches for the sleeves are now on holders, and I am a few rows past—working down to the waist.
Sleeves are about 1/3 of sweater, (and part of the sleeves are, in effect knit.)
The body is not quite half done; but close—I guess I am 5/8
th
done (or 62%) in total. Not bad for a week's worth.
I've been thinking about the buttons.
And I have come up with 2 options.
1—
get a kit to make a set of covered buttons, and knit some birds eye checks and some small checkerboard swatches, and make matching knit buttons.
or
2—
get some polymer clay and make some checker board buttons in the same shades/colors.
We'll see—maybe I won't be able to find good polymer colors—more likely I won't make good buttons! (I am not very skillful with polymer clay!)
I also realized I have some fingering weight brown wool (a cone!) and some wool/angora in a shade close to the light aqua (2 orphan skeins) … Miss B might find herself the owner of some mittens (or fingerless gloves) double knit –with angora (all soft and fluffy) inside, and plain brown wool (suitable for making snowballs!) outside.
Fingerless gloves are very grown up—and might get more use—worn as a fashion items.
Maybe I'll look for some teal gloves (machine made) to pair with the fingerless gloves.
Real gloves are needed for camping (something the family does)—but aren't often needed in SF proper.