I did it again.
Some one asked me: What is the best cast on for my project?
And I answered them with questions.
Best is subjective.
The best cast on for a toe up sock is NOT the best cast on for a cuff down one.
The best cast on for a shawl knit in the round is not the best cast on for a scarf knit from the short edge.
The best cast on for a hem of sweater is not the best cast on for cuff, not is it the best cast on for the neck edge.
How do I know what the best cast on is?--How can you know what the best cast on is?
Well some thoughts--what is needed from the cast on?
Stretch
? Or
Strength
? Or
Both
?
Utility
? Or
Decorative
? Or
Both
?
Firmness
? Or
Flexibly
? Or
Both
?
What are you knitting? Something with 3 or 4 open edges? (a scarf or shawl or baby blanket?)
Or something that will be seamed—a garment, or bag?
When a knit item has open edges –be it a face cloth, or place mat or a luxury shawl, I like to think of the cast on as step1/edge 1 of the item. The cast on doesn't stand alone, but is one edge of a whole cloth. The cast on needs to be part of the selvage, and the cast off.
When a cast on frames the face (a hat, or neckline of a top down sweater) it needs to be attractive.
When a cast on is for a cuff, or hem of sweater, it needs to be firm (so as to not stretch out) but stretchy (no one looks good with a tight hem cutting into their hips) and durable (especial for cuffs) –and for the cuffs, attractive is nice too!
That is a lot to ask from a cast on!
Some times it is important that the cast on matches the cast off--it's a nice detail in a simple scarf, but more important in a side to side knit garment—the center front edges should match (even if they are going to be further finished)
Is is possible to go your entire knitting life using a single cast on?
Sure—As Sally Melville demonstrated with The Knit Stitch—you can knit a lot of very different things, with just the knit stitch. If you are happy with just knowing and using 1 cast on, it's fine.
Knowing, and being picky about cast on edges is just that
BEING PICKY
.
There is no right cast on, and no wrong cast on. There is only persnickety detailing.
The choice of which cast on to use, is a personal choice.
How can you know which cast on to use when?
Knitting a swatch? Swatch a new cast on!
Making a face or wash cloth? Plan the cast on, selvage and cast off to coordinate.
This example has an I-cord cast on, with I-cord edges, and an I-cord bind off.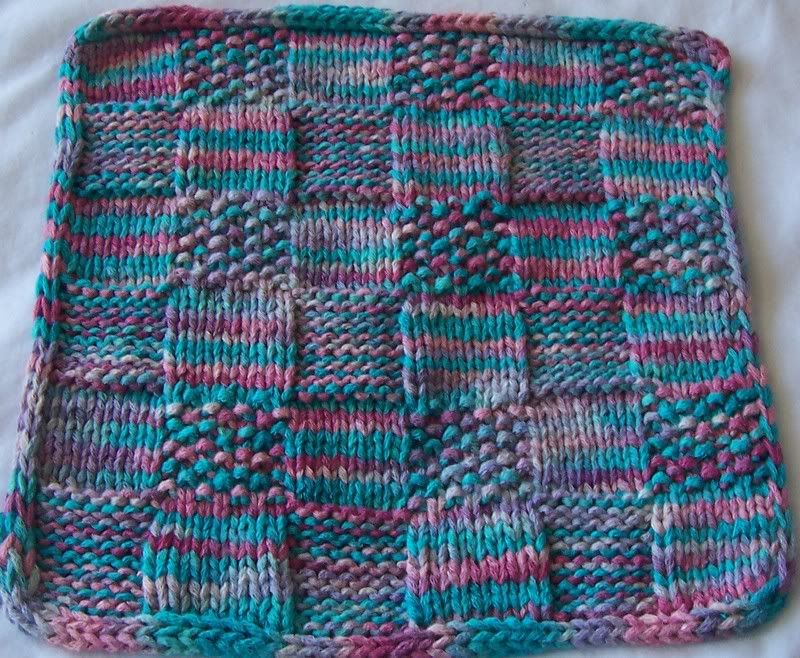 Make your next pair of socks Toe UP –(if you normally knit cuff down) and try an invisible cast on like figure 8, Turkish (aka eastern) or Judy's Magic Cast On.
Or make your next pair of sock Cuff Down, and start with a Channel island cast on, or a Latvian cast on, or tubular cast on instead of the basic long tail or German (aka Twist or Norwegian) cast on.
Make some Hats—(I have for the past few months!) and experiment to find the cast on you like best with ribbing.. or the one you like best for a top down hat, or the one you find prettiest, or stretchiest, or easiest!
I KNOW what I like. I chose a cast on. And I always chose the best one.
But which cast on is Best for you? I dunno!
(You can start your cast on education
here
(or
here
, or
here
, or
here
!) for more info on cast ons—
Here
you'll find some info on cast offs—and
HERE
you'll find some of my You Tube video's for cast ons... You'll have to search and book mark others for your self!)