(I am --unusually--using images from photobucket.. and I am finding them hard to edit (for size)so the images are very large!)
Nothing is finished…
Nothing has progressed.
The Pink potholder (number 1) is past the half way point, but it's not done.
The pastel red socks are still sitting, with 1 more increase row to do before the heel.
The Calzetteria socks, that jump into my hands, are halfway through the heel flap—no pattern jumped out, so the top of the sock is 1 X 1 ribbing from cast on to…. (Midway through the instep I am imagining—I don't like ribbing right down to the toes.)
The Teal shrug sits, untouched, the Black Pearl scarf is languishing too...
But a comment a few days ago sparked my interest.
I learned to knit socks a long time ago (the 1960's!)
As with all things, I plowed ahead, not troubled to learn what to do, before I did it.
My first socks had short row heels—well almost—hourglass is more accurate.
I looked at some very poor directions for a flap/turned/gusseted heel, and didn't understand what I was looking at.
So I looked at my socks (the store bought ones I was wearing) and decided I could make a 'commercial heel' –and did.
(in these socks, the left gussets is bit clearer.)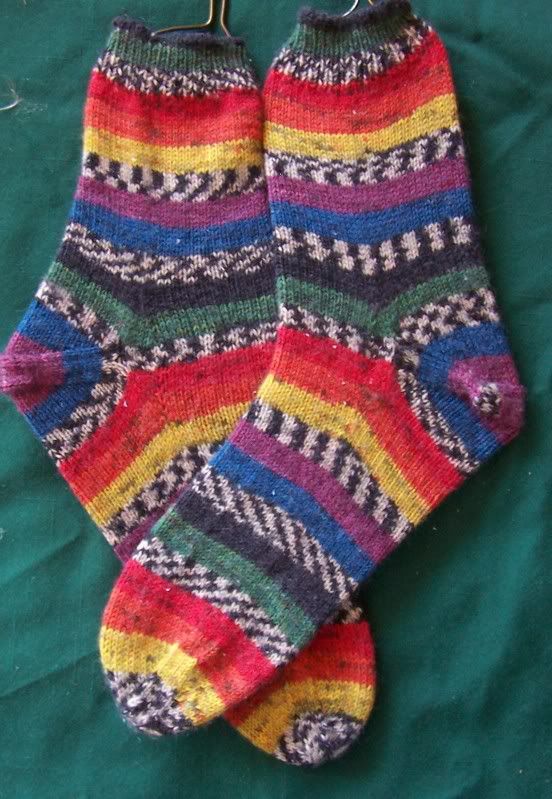 I divided the sock in half, and then decreased as I worked down—I didn't short row, I decreased, working from 30 stitches to 29, to 28, to …..(About 10)
And then I increased till I once again had 30 stitches.
Knitting what was an hour glass shape.
As part of finishing, I sewed to small seams to make the hour glass into a shape like a short row heel.
My mother (a bone fide member of the knitting police) was aghast! This was no way to make a heel. A proper heel…(she didn't knit socks, but she KNEW how to knit a proper heel.)
But, I was quite pleased with my socks. I HAD FIGURED out a heel of my own.
It was quite typical of how I knit!
Like many a knitter, I just do as I please. Sometimes the results are wonderful, sometimes so, so, and sometimes, awful.
But it's only yarn, and a bit of time and I always willing to try things out.
After my 'unvented' heel, I learned how to do a proper flap/turned/gusseted heel.
And after learning how to do short rows for the turning, I went back to my hourglass heels, only now I did them with short rows.
There are times that I really like short row or afterthought or similar heels.
I like self striping yarns, but I don't like how a flapped/turned/gusseted heel disrupts the striping pattern.
On the other hand, I don't always like how a short row style heel fits—it can be tight over the instep, and the heel can be too short.
There are several solutions to these problems—and for me; the best one is the one I devised!
(Want some other solutions? Search on Ravelry's Tech forum!)
I have 2 solutions, and I like them, and use them about equally.
I add small gussets to the sock
A gusset, incase you didn't know, (or only know them from F/T/G socks) is a small triangle of 'fabric' used to create ease. Gussets are used in both knitting and sewing.
So my gussets are pair's small triangular increases and decreases at the point of heel. (Together they make a larger triangle)
Sometimes the gussets are on the instep (and the heel is worked over ½ of the original count of stitches), some times, the gussets are worked on the heel side, and the heel is deeper and wider because of the extra stitches--
The images in this post show some examples of the gussets.
The process I use isn't very refined—for me, it's 'about' thing.
About ¾ to 1 inch before you start the heel, start increasing (on either the instep or heel side of the sock) Ideally you'll want at least 1 inch of ease (2 ½ inch gussets) depending on your gauge, this can be 4 sets of increases (4 pairs) or 5 pairs—(10 stitches).
If you knit your socks at 8 stitches per inch, 8 increases will provide an inch of ease, 10 stitches, and 1.25 inches of ease.
If you stitch gauge is tighter, chances are your row gauge is tighter too, and starting 1 inch before the heel might be 10 rows/rounds of increase or maybe even 12 rows/rounds—and 12 stitches (at 10 stitches per inch) is just a bit over 1 inch of ease—The idea is to have about 1 inch of ease--not 8 (4 pairs) increases) or any other specific number.
MORE is better than less (1.25 inches or even 1.5 inches of ease is better than ¾ of inch!) –and if you have a very high instep, you might want even more!
The increases are worked every other row, so the gussets is 8 to 10 rows(rounds) deep—Your row gauge is the guide to when to start!
Then work the heel (with ½ stitches, or with the increased stitch count.)—you can work the heel right away (short rows) or knit a row of waste yarn in place and come back latter and work afterthought heels)
When the heel is complete, work decreases (and in the process create a second gusset) until the stitch count is back to original number (or don't!)
IF you are working toe up, AND you have heavy legs or ankles, you can leave 2 extra stitches in the leg—for ease, (or to correct the count for a pattern!)
IF you are working cuff down AND have narrow feet, you can decrease an extra stitch or two, and make a snugger fitting foot!
(This gussets is on the Heel side, and is a bit deeper than average)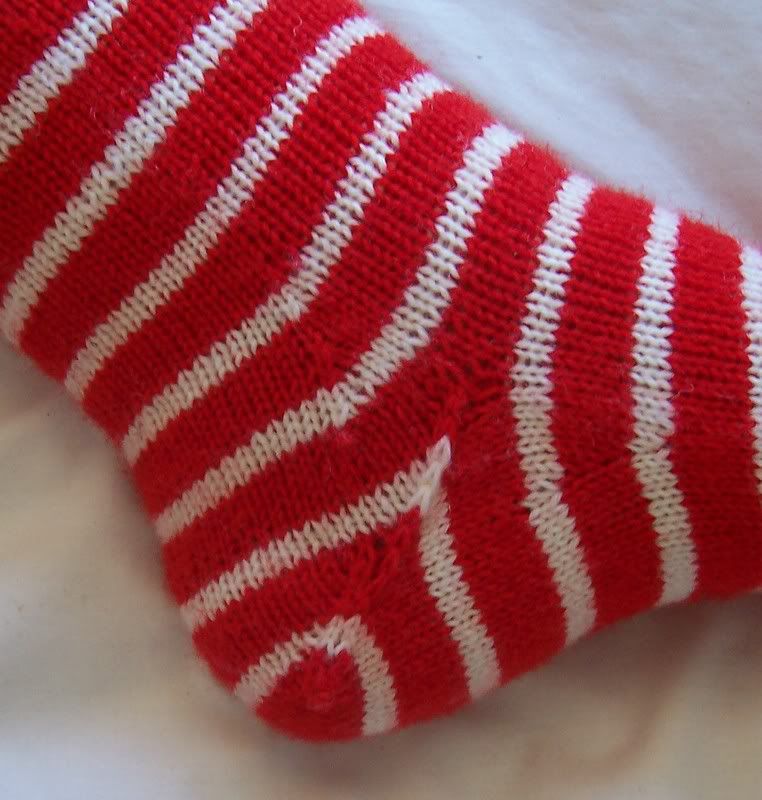 The gussets are hardly noticeable—but the fit is greatly improved!