In the clear light of day, I frogged, and then cast on again—perfectly--the first time.
Today--I have several inches of the sweater yoke knit/
I worked some ribbing, made some increases, and began an other version of a favorite pattern—well an adapted version of a favorite pattern. The pattern isn't as obvious as it could be in this busy yarn—but I am happy with the results—none the less.
Both sweaters are being knit at once--(just one in pictured)--and I am still on ball 1 (of 5 available) and should have plenty to finish both sweaters, and to make a hat, too.
I love this pattern—the sweater yoke is about 90 rows--(half of which are plain purl) the other rows? Each one is different! I have used this pattern in sweaters, and in hats, and shawls, and now, back to sweaters.
But for this version, there are fewer repeats of the petal like lace pattern--(3 teirs instead of 4 or 5)--so the 90 row yoke will be closer to 60 or maybe a 76 row yoke.
There are fewer petals, (pattern repeats in each row) too, so instead of the optimal increases (8 every other round) there are only 7--but babies have narrow shoulders and this shouldn't be a problem.--Plus--Lace is stretchier than stocking knit, so the lace will provide the ease needed.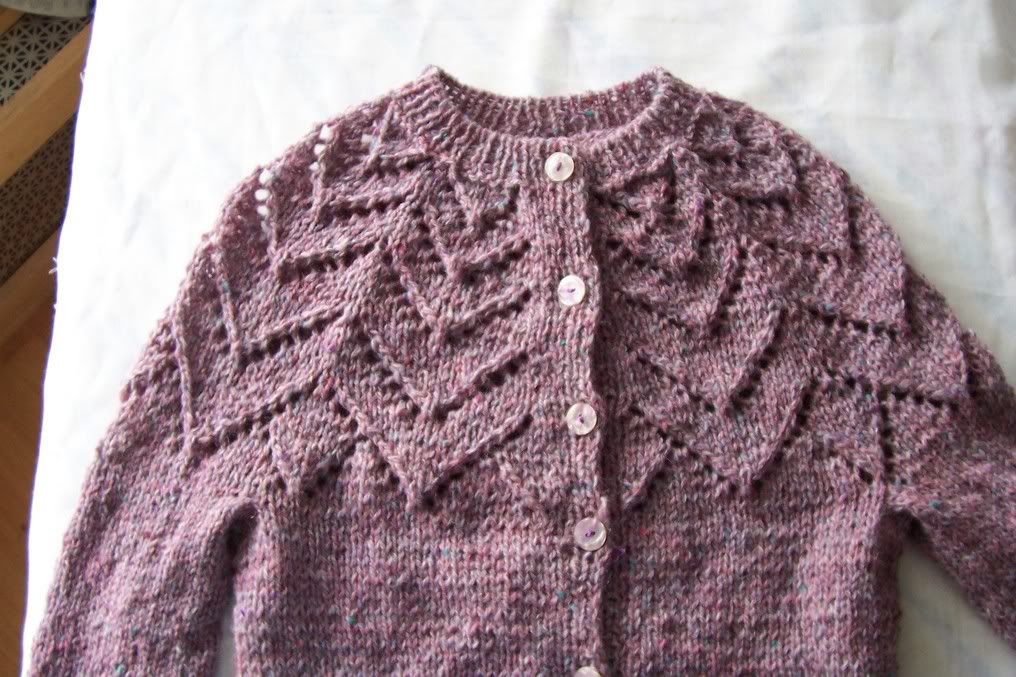 So these sweaters will have a yoke with fewer repeats--and shorter--than I've done in the past--but i think they will be just as pretty.
Here is another versions-- one in a heathery wool, and another version in
green cotton--
(the green "Artichoke" version was knit for my first grand daughter (she's now a teen!)
Once I worked out the pattern, it's been easy to adapt, and do again and again. The first row is the hardest—getting things set up—after that, it is—to me—almost mindless knitting.
The girls will end up having various versions knit for them again and again--